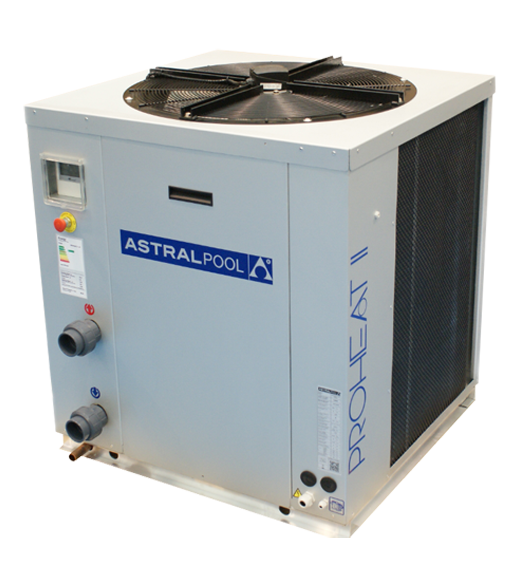 astral heat pump
supply & install in dubai
We Infinite Leisure is the one of the best swimming pool company Dubai and we are Astral AHP heat pump supply/dealer in Dubai, Abu Dhabi, Sharjah, Ajman Ras Al Khaimah, Fujairah and Al Ain – UAE. We offer every client excellent swimming pool heat pump products and comprehensive customer service.
We focused on bringing you the latest technology within the pool industry. We are dedicated to supplying Astral AHP heat pumps to our customers with only the best quality products. We are the friendliest place to purchase all the pool heat pump supplies you need to last all season long. We offer the best selection of name-brand pool products, outstanding customer service, and knowledgeable staff.
The advantages of heat pumps for the swimming pool are undisputed: On the one hand, the water is always at a pleasant temperature, regardless of the weather. And: You can usually extend the bathing season into a more fabulous season. On the other hand, the pool heating of the pool water with the help of an air-water heat pump reduces energy consumption while maintaining high efficiency. This also reduces costs, as it uses the air as a natural energy source. The energy consumption is therefore reduced almost exclusively to the electricity required by the heat pump. Another plus point: the assembly is done without much effort.
heating / cooling capacity of astral ahp heat pump:-
| | | |
| --- | --- | --- |
| Model Number | Heating Capacity | Cooling Capacity |
| | 13KW HEATING | 8KW COOLING |
| | 21KW HEATING | 14.5KW COOLING |
| | 25KW HEATING | 17KW COOLING |
| | 35KW HEATING | 25KW COOLING |
| | 45KW HEATING | 30KW COOLING |
| | 55KW HEATING | 38KW COOLING |
| | 82KW HEATING | 58KW COOLING |
| | 108KW HEATING | 72KW COOLING |
| | 160KW HEATING | 120KW COOLING |
| | 210KW HEATING | 150KW COOLING |
astral AHP
heat pumps
Our Astral AHP heat pump takes pride in offering high-quality products with superior customer service in the Market. We go to great lengths to ensure we stock Astral AHP heat pumps with only the best and most reliable products on the Market today. Our wide AHP heat pump selection of famous brand Astral makes it easy to find your favorite fantastic heat products. If you need help, one of our trained sales staff members will gladly assist you with knowledgeable recommendations.. Below are the Astral pool AHP heat pump / heater chiller series / range that we do supply and installation in Dubai - UAE
How does a heat pump work?
Astral AHP heat pumps for pool heating are used indoors and outdoors and work according to the same technical principle in both areas. The technology largely corresponds to that of a refrigerator. Only the cycle in the most commonly used air-water heat pump is not used to generate cold. Heat is generated here.
A fan sucks the outside air in. The excess energy is then extracted and transferred in concentrated form directly into the swimming pool water via a heat exchanger. The heat pump is integrated directly into the filter circuit. Since the heat exchanger is in constant contact with water, it should be made of corrosion-resistant material. This includes high-quality stainless steel.
However, if the chloride content is over 0.1 percent, as in seawater baths or when sterilizing with salt, the heat exchanger must be made of titanium. Titanium heat exchangers can be flowed through with the total amount of water. Those made of stainless steel are integrated via a bypass and equipped with a flow monitor. In the event of a water shortage, this ensures that the compressor is switched off.
Latest
Posts
Check out latest post / updates for swimming heater chiller.!
The swimming pool heating cooling system is for helping you switch the…
As we've discussed extensively on this site, and in AHP HEAT PUMP,…
Swimming pools provide a great source of recreation and entertainment during…
Feel Free To Contact WIth Us
Our Location
Office 1202, Churchill Tower, Business Bay - Dubai, UAE.
Phone Number
+971 4 429 00 44 | +971 50 8553878
Email Address
info@ilpools.ae, ahpheatpump@gmail.com
Does a pool heat pump make sense?
This question can be answered briefly and concisely: yes. Thanks to a Astral pool AHP heat pump, the temperature of the water remain pleasantly warm at all times. This is even true on colder days. This reduces the risk of the water "tipping over" many times over. If you look at the price-performance ratio, the pool heat pumps perform significantly better than other heaters. They usually work more efficiently and have hardly any heat losses. At the same time, owners of pools have to reckon with comparatively low operating costs. Likewise, there are only (depending on the model) low noise emissions. The pool heat pumps have a long lifespan thanks to robust and high-quality materials.
Where should I place the pool heater?
The installation location is an important criterion. If the heat pump is outdoors, the housing should be made of weather-resistant aluminum. Equally suitable are stove-enameled steel or steel coated with plastic. Furthermore, craft businesses should place the pool heater so that the front is open to the front. As a result, the sound is not amplified unnecessarily by reflection, and the noise level remains pleasantly low. Except for a small distance, the back can be close to the house or garage wall. If the pool heating is inside, the devices need a different construction. These are usually larger than the outdoor models and differ in fan design. They are connected to the duct and have silencers and external air grilles. An essential aspect in combination when buying a heat pump for the swimming pool is a low noise level, which is essential when manufacturing high-quality equipment. For example, large and slowly rotating fans work very quietly. In addition, the installation of the compressor in a separate compartment also has a noise-reducing effect.
How long does a heat pump take to heat up the pool?
A heated pool is essential to ensure that the bathing season lasts as optimally and long as possible. The duration for this differs depending on the size of the pool and the heat pump model. A rough rule of thumb is as follows: Each one °C water temperature = max. the heating time of 4 hours The time it takes to heat your pool is calculated using the following formula: pool capacity in m 3 / heating output of the heat pump in kW Accordingly, a pool with a volume of 30 m 3 in combination with a 15 kW heat pump needs two hours for the water temperature to rise by one °C.
Which metric is most important?
Experts express the measure of the achieved energy gain with the performance number COP – the Coefficient of Performance. This value represents the ratio of the electrical drive power used to the usable heat. Specifically: With a performance figure of 5, the one-kilowatt hour of electrical energy is converted into five-kilowatt hours of heat energy. With air-water heat pumps, this is directly dependent on the respective air temperature. A realistic comparison of the COP of different models is only possible if the ambient temperature conditions are the same. At an air temperature of 16 °C and a water temperature of 25 °C, high-quality heat pumps have a COP value of around five or more.
Which heat pump for which pool size?
The selection of an outdoor pool heat pump for pool heating depends on the water's surface. An overflow pool requires a higher heating capacity than a skimmer pool due to the larger water surface and the higher heat loss through evaporation. Experts recommend a heat pump for swimming pools with a heat output of around 9.8 kW (air temperature 16 °C/water temperature 25 °C) for a pool with an area of ​​32 square meters and for a usage season from April to September. With a pool cover, the heating requirement on sunny days can be reduced by around two-thirds by reducing evaporation. Heat pumps for the swimming pool with integrated hot gas defrosting are also suitable for night temperatures in the frost range. They enable swimming pool operation in year-round mode. In general, the technology is so sophisticated that there is a large number of providers.